WHY ADELAIDE YOGA THERAPY?
"The success of Yoga does not lie in the ability to perform postures but in how it positively changes the way we live our life and our relationships." – TKV Desikachar
Yoga as a therapy is not only about the asana. By addressing the uniqueness of you, and adapting the tools of yoga to develop a personalized practice, we begin the process of empowering change. If you wish to be an active participant in your health and well-being we work together to design a practice that is suitable for your current needs, and continues to progress as your circumstances change.
Yoga
"If anybody can breathe, they can do Yoga."
T Krishnamacharya
Adelaide Yoga Therapy has come together out of the varied healing modalities studied over many years….with me, the traveller, not really knowing where or what it was growing into. I was simply going with the flow, meandering along.
Over time we flowed into the field of Yoga, with my regular business in the country trying to accommodate its arrival. A move to the city found the name Samyama emerge, along with a desire to share what Yoga has to offer.
Samyama was not a style or brand of yoga, but a process to a destination…a place where the practitioner, student or seeker, could and is still able to set their intention to move towards…a journey through Yoga to the heart.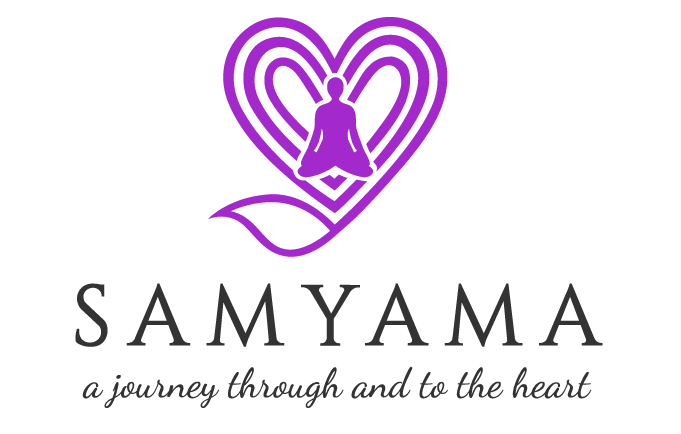 Samyama's ethos is reflected in her logo,  Yoga is at her heart; a practice led by the heart into the heart and returning, yet something has changed, the travellor is not quite the same.
"Yoga is both movement towards and arrival at a point" TKV Desikachar.
Over time it has been a personal practice of remembering, to step slowly and mindfully, meeting and experiencing what comes and allowing change to be part of the process. A practice of encouraging time to rest and to reflect along the way, acknowledging that change is a constant in our world and that it is ok to choose what we keep and what we let go of….. It has been for me, in my human-ness, a practice in yoga.
Samyama has been a stepping stone along the way. It has been a place of refuge and learning and as with any good yoga practice it is with care and reflection that I take another step to deepen my commitment to sharing the benefits of Yoga, this time, for the individual.
Why Adelaide Yoga Therapy?
Health and Wellness through Yoga of the Heart
Adelaide Yoga Therapy aims to provide a holistic approach to health and wellbeing according to the needs of the individual within a nurturing environment, one that empowers the individual to believe "I can do this for myself" TKV Desikachar.
Yoga in the traditional sense was taught by the ancients within the student teacher relationship and when taught with this framework in mind the teacher guides a student according to their stage in life, their ability, potential and their own uniqueness. A student requires an eagerness to be open to receive, to learn and to practice with a sustained effort over time to begin to understand their potential.
"There is something really important about relationship, openness, the grace of listening, and belief that the person is truly whole." Dr. Brian Broom
At Adelaide Yoga Therapy the student teacher relationship is an integral component of care. The teacher's role is to empower the student to become their own catalyst for change, as they work with the guidance of the teacher to step gently towards their goal of wellbeing.
This is a unique way to teach and a unique way to work with yoga. Today we live in an increasingly demanding world, one where we often want to achieve an instant result. Within the field of health we look to others to assist us, to tell us what to do or to heal us. We look for instant relief from our suffering often like a child wanting the bandaid from mum to "make us feel better".
Adelaide Yoga Therapy offers a unique opportunity to explore together a pathway to "feeling better". We work within the student teacher relationship, in conjunction with the other practitioners involved in your care if needed, to facilitate  change. That change may come in many forms, from the relief of symptoms to improved health, or it may simply be a change in the relationship with our suffering. There is possibly only one perceived drawback…… it takes time and practice to establish effective change.
As one who shares Yoga, and as a Yoga Therapist, I am able to offer you my own understanding of the healing that the practice of Yoga is able to bring to the individual. I am able to offer the student a different experience of working towards wellness that is empowering and guided by what presents at every consultation… The desire for understanding comes from within each of us, it is about choice… Are we curious enough to explore?
I close with the words of a great teacher "All a teacher of Yoga can guarantee is "I can care" TKV Desikachar Health Healing and Beyond.